The 2012 Hyundai Genesis from Reliable Hyundai is the symbol of passionate automotive craftsmanship built to fit the needs of MO Hyundai enthusiasts. Reliable Hyundai is thrilled to present the 2-door 2012 Hyundai Genesis Sedan. As your Springfield Hyundai dealer, we hope you find our 2012 Hyundai Genesis reviews and research materials useful in finding the features, specifications and information you've been hunting for.
View Reliable Hyundai's lineup of 2012 Hyundai Genesis Sedans
.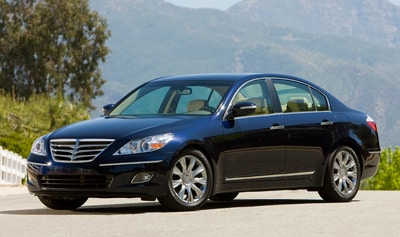 [Dealership Name] presents the 2012 Hyundai Genesis Sedan
Consumers find that when they compare the 2012 Hyundai Genesis to other makes like the Audi A4, BMW 5 Series, Lexus IS 350 and Mercedes Benz E550 , the Hyundai Genesis sets itself apart as the most fun to drive. Check out our Quick List spec table below to see why!
The 2012 Hyundai Genesis has an starting MSRP of $34,200
The 2012 Hyundai Genesis gets 18 city / 28 highway MPG
The 2012 Hyundai Genesis goes from 0-60 MPH in 5.7 seconds
The 2012 Hyundai Genesis features 44.1 inches of legroom up front and 30.3 inches in back
The 2012 Hyundai Genesis features 39.2 inches of headroom in front and 34.6 inches in back
The 2012 Hyundai Genesis is 182.3 inches long, 73.4 inches wide and is 54.5 inches tall
The 2012 Hyundai Genesis weighs 3,389 pounds and has a turning radius of 18.7 feet
We know you'll enjoy the Hyundai Genesis - visit Reliable Hyundai in Springfield today!
Get the inspired performance and smooth ride of an elite luxury brand vehicle in a car priced at just $34,200. With its lavish well-appointed interior and refined ride, the new 2012 Hyundai Genesis competes against cars priced well over $50,000. This affordable premium car outdoes the Audi A4, BMW 5 Series, Lexus IS 350 and Mercedes Benz E550 with its combination of sophisticated standard equipment and affordability. Most Hyundai Genesis reviews will tell you the same thing: if you want a sports-minded vehicle that offers world-class luxury at a non-premium price, the Genesis is a terrific value. Its accolades include a Consumer Reports "Top-Rated Upscale Sedan" award, a Cars.com "Best Deal for the Boss" award and a J.D. Power APEAL Study award for being the highest ranked midsize premium car in its class, beating out the BMW 5-Series and the Jaguar XF. Adding to the Hyundai Genesis' impressive distinctions is an NHTSA 5-star safety rating and an IIHS "Top Safety Pick" designation. Hyundai Genesis reviews are better than ever for the new model year. The all-new 2012 Hyundai Genesis 5.0 R-Spec trim has already made its mark, offering more horsepower than the BMW 550i and Mercedes-Benz E550 and best-in-class interior volume. Stop by Reliable Hyundai to test drive the elegant Genesis, Genesis Coupe or new Genesis 5.0 R-Spec today and experience affordable luxury.
Although the Hyundai Genesis was introduced at the New York Auto Show in 2007, it would not appear on dealership lots until a few years later. When the Genesis finally hit sales floors, it did so with great aplomb, garnering the 2009 Genesis a North American Car of the Year award. The Genesis is Hyundai's attempt to break the line between a sports car and luxury vehicle. With powerful engine options like a 3.8-liter V6 and a 4.6-liter Tau V8, and high-end amenities like a push button start system and ultraviolet reflective leather, Hyundai succeeded in molding refined quality and sporty performance. Hyundai has continued their venture into affordable luxury cars with the 2011 Hyundai Genesis and brand-new 2012 Genesis. Reliable Hyundai has a large inventory of new and used Hyundai Genesis sedans and coupes for sale with a variety of Hyundai pricing and incentive packages available to Springfield car shoppers.
You can spend smart and still get all of the luxury and power that you desire out of a car. The Genesis sedan is available in 3.8, 4.6 and brand-new 2012 Genesis 5.0 R-Spec trim levels for the new model year. And be sure to inquire about Genesis coupe trims like the 2.0T, 2.0T R-Spec, 2.0T Premium, 3.8 Grand Touring, 3.8 R-Spec and 3.8 Track. Check out a new Genesis car or coupe in eye-catching colors like Twilight Blue Pearl, Black Noir Pearl, Cabernet Red Pearl and Champagne Beige Metallic. With the Genesis, luxury is easily accessible to individuals on a budget, so stop by Reliable Hyundai for a test drive soon!
One of the most notable features of the2012 Hyundai Genesis is its 378-horsepower Tau 4.6-liter V8 engine. This powerful workhorse pumps out 324 pound-feet of torque and provides more horsepower than any other V8 competitor in its class. It also produces more torque than the Lexus GS460 and the Audi A8. The Tau engine housed in the Hyundai Genesis 4.6 has been featured in Ward's Auto's "10 Best Engines" for two years running. In addition to the Tau engine upgrade, the V8 powered Genesis features a standard ZF 6HP26 6-speed automatic transmission from ZF Friedrichshafen - the identical unit found in the BMW 5-Series. The Genesis 3.8 trim at Reliable Hyundai features a powerful 3.8-liter direct-injected V6 engine. The 3.8 is no weakling with a power output of 333 horsepower and 291 pound-feet of torque. This year, the 2012 Hyundai Genesis 5.0 R-Spec made a grand entrance into the American market, offering more torque and horsepower than many other luxury sports vehicles. With a 5.0-liter directed-injected V8 that generates 429 horsepower and 376 pound-feet of torque, the 5.0 R-Spec is road and track ready.
Additional extras in the 2012 Hyundai Genesis from Reliable Hyundai include standard premium features like a Lexicon audio system with 7.1 channels, 528-watt output, 17 speakers, two 3-way transducer systems, five 2-way transducer systems and digital signal processing that provides equalization among driver and passengers. Other great standard features include Hyundai's Ultimate Navigation System with an intuitive Driver Information System and 8-inch screen, smart cruise control, electronic parking brake, a cooled driver's seat, HID headlights and a parking assistance system with a rearview camera. With Hyundai's 5-year/60,000 mile basic warranty, as well as a 10-year/ 100,000 mile powertrain warranty, Springfield Hyundai shoppers can't go wrong with the new 2012 Genesis.
The 2012 Genesis 3.8 from Reliable Hyundai offers a laundry list of standard luxury amenities like: automatic headlights with fog lights, 17-inch alloy wheels, dual power heated body-colored side mirrors with turn signal indicators, leather seating surfaces with heated front seats, cruise control, a push-button start, unique Hyundai floor mats, a Bluetooth hands-free phone system and a complimentary 90-day XM Satellite Radio subscription. Be sure to ask a sales representative from Reliable Hyundai about the Hyundai Genesis 3.8 Premium Package, Premium Navigation Package and Genesis Technology Package for a whole new level of luxury!
For an extravagant driving experience, test drive the new 2012 Hyundai Genesis 4.6 from Reliable Hyundai. Indulge in all of the amenities of the Genesis 3.8 plus the Technology Package and add fantastic extras like chrome lower bodyside moldings, illuminated door sill plates, a woodgrain-trimmed leather steering wheel and electrochromic auto-dimming outside mirrors.
New Hyundai Genesis Coupes might as well be badged the designer imposter luxury Infiniti G37 Coupe due to fine amenities and powerful engines like the Genesis Coupe's 3.8-liter workhorse with a ZF six-speed electronic automatic transmission and paddle shifters. These 2-door coupes are a sleeker, sportier alternative to the 4-door Genesis sedan, so if you're seeking an affordable coupe, look no further than Reliable Hyundai's 2012 Genesis.
Be sure to check out special edition Genesis vehicles like the Hyundai Genesis Prada Edition, the RK Sport Hyundai Genesis sedan and the DUB Edition Genesis. As a leading Springfield Hyundai dealer, Reliable Hyundai is proud to offer one of the largest selections of new and used Hyundai Genesis cars in the area!
Owning a Hyundai Genesis from Reliable Hyundai makes MO driving comfortable, safe and enjoyable - all at the same time! Here are some more details:
[Dealership Name] has a massive stock of 2012 Hyundai Genesis Sedans with standard Hyundai safety features like anti-lock brakes, traction control, driver airbags, passenger airbags, side airbags and more, making the 2012 Genesis an NHTSA and IIHS favorite. In addition to these safety features, the 2012 Hyundai Genesis can easily seat up to 4 passengers. Trunk space with Hyundai is never a worry; the Genesis can hold up to 10 cubic feet of your luggage, ensuring that your next drive is hassle-free. To top it all off, the 2012 Hyundai Genesis includes an outstanding list of comfort and convenience highlights like powered windows, mirrors, doors and locks, climate control, AC and optional hands-free phone and navigation systems. Take a test drive at Reliable Hyundai today and experience the Hyundai Genesis for yourself.
The Hyundai manufacturer's warranty covers the Genesis for manufacturing defects and has a 5 Years / 60,000 miles Hyundai warranty. Hyundai has worked for years to minimize its environmental impact; as a result, the Genesis's carbon footprint is minimal. Not surprisingly, with all of the Genesis's advantages, this dependable Hyundai Sedan retains a high percentage of its value at 3 years and 36,000 miles, which makes the Hyundai Genesis a great used buy! When seeking a safe, stylish and economical Sedan, Springfield Hyundai enthusiasts should head to Reliable Hyundai, located at 438 S Ingram Mill Rd in Springfield, [Dealership State]
Hyundai Genesis service information for Springfield
Hyundai Genesis lessees and owners in Springfield have learned that [Dealership Name] at 438 S Ingram Mill Rd in Springfield is the very best choice for Genesis warranty work, regular maintenance, inspections and mechanical repairs. At Reliable Hyundai, Certified Hyundai Technicians trained in the very latest corrective and diagnostic techniques work for one thing - your approval. Whether it's time for your Hyundai to have an oil change, brake pad replacement, or simply undergo Genesis Scheduled Maintenance, Reliable Hyundai is your first choice. Our Certified Hyundai Mechanics also complete specialty jobs and repairs. Reliable Hyundai is the smartest choice in Springfield for quick, considerate and professional Hyundai Service of all kinds.
If you'd like to make an appointment to have your Genesis serviced, click the link or just give us a call. We look forward to seeing you soon!