Receive Oil Change Service at Reliable Hyundai
Is your car in need of oil change service in Springfield? If so, bring your Hyundai car or SUV down to Reliable Hyundai and we'll be happy to take care of the job. Our onsite service center is outfitted with all of the latest automotive tools and technology needed to handle a wide range of repairs and we have a dedicated team of highly trained technicians who are certified to work on all makes and models. We are also one of a few dealerships in the Ozarks to offer an Express Lube station, where customers can receive a quick oil change with or without an appointment.
Why Your Car Needs an Oil Change
Some car owners often believe routine oil changes are not needed to keep their car running smoothly, but we're here to tell you this couldn't be farther from the truth. Oil is used to keep the engine's parts lubricated, and without it these parts begin to rub together and corrode. Although your car may currently have a healthy dose of oil, over time it will start to break down due to high operating temperatures and collecting dust, which makes it less effective. Due to these inevitable circumstances, it's imperative for all car owners to receive multiple oil changes each year and you can get one right here at Reliable Hyundai.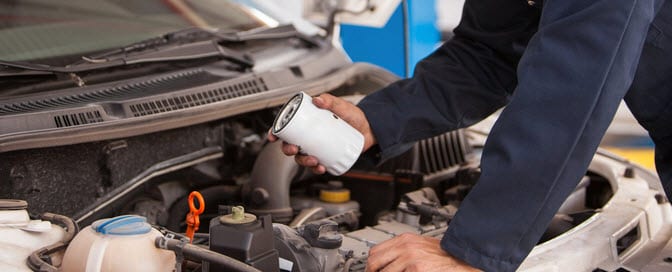 When Is it Time to Get an Oil Change in Springfield?
If you're not sure when to bring your car into Reliable Hyundai for an oil change, check your owner's manual. Inside, you'll find a recommended maintenance schedule that will let you know how often you should have your car's oil changed. If you have a used car with an old engine, drive at high speeds or use your vehicle to carry large loads, you may have to bring it into our service center more often.
For inquiries related to our oil change services, contact us and we'll be sure to provide you with more information. At Reliable Hyundai, we are committed to delivering excellent customer service and look forward to helping you with all of your service needs.