The 2012 Hyundai Veloster from Reliable Hyundai is the apotheosis of committed automotive craftsmanship built to fit the needs of MO Hyundai shoppers. Reliable Hyundai is proud to present the 3-door 2012 Hyundai Veloster Hatchback. As your Springfield Hyundai dealer, we hope you find our 2012 Hyundai Veloster reviews and research materials helpful in finding the accessories, specifications and information you've been looking high and low for. View Reliable Hyundai's lineup of 2012 Hyundai Veloster Hatchbacks.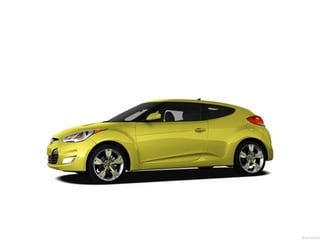 Reliable Hyundai presents the 2012 Hyundai Veloster Hatchback
Consumers find that when they compare the 2012 Hyundai Veloster to other makes like the Volkswagen Scirocco, Mini Cooper S and Scion tC, the Hyundai Veloster stands out as the most fun to drive. Check out our Quick List chart below to see why!
The 2012 Hyundai Veloster has an starting MSRP of $17,300
The 2012 Hyundai Veloster gets 27 city / 37 highway MPG
The 2012 Hyundai Veloster goes from 0-60 MPH in 8.5 seconds
The 2012 Hyundai Veloster features 43.9 inches of legroom up front and 31.7 inches in back
The 2012 Hyundai Veloster features 39.0 inches of headroom in front and 35.3 inches in back
The 2012 Hyundai Veloster is 166.1 inches long, 70.5 inches wide and is 55.1 inches tall
The 2012 Hyundai Veloster weighs 2700 pounds and has a turning radius of 17.1 feet
We know you'll like the Hyundai Veloster - visit Reliable Hyundai in Springfield today!
Hyundai's 24/7 versions in 2.0 product initiative - a marathon challenge to create seven new car models in 24 months - has produced a subversive new offspring. Now available at Reliable Hyundai, the all-new 2012 Hyundai Veloster is the sixth vehicle to be produced in this series. Following the new Tucson, Sonata, Equus, Elantra and Accent, it is plain to see that the Veloster is undoubtedly the most avant garde of the bunch. Hyundai's Veloster outguns the Volkswagen Scirocco, Mini Cooper S and Scion tC with its hybrid-like fuel economy, glaring individuality and wealth of smart technologies. Visit our Springfield Hyundai dealership to check out the new 2012 Hyundai Veloster today!
Hyundai's "Fluidic Sculpture" styling is the aesthetic philosophy behind the progressive look of the 2012 Veloster from Reliable Hyundai. This is exemplified in the elegant lines, bold wheel arches and camouflaged body-color door handles that accent its exterior. The Hyundai Veloster's distinctive design also takes inspiration from motorcycles. With sharply slanted black A-pillars flanking the sides of the front windshield, Springfield Hyundai drivers will feel like they're staring through the visor of a sport bike helmet. Hyundai's signature hexagonal grille is also slightly modified, bearing a more aggressive form that is evocative of a high-performance motorcycle. An asymmetrical door setup is another unique design feature that sharply sets the new Hyundai Veloster 2012 apart from other compact sport coupes. The Veloster is making history as the first vehicle with one door on the driver's side, two doors on the passenger's side and a slick glass hatch design.
Groundbreaking telematics systems and other smart technologies make up the complex nerve center of the Hyundai Veloster 2012. One of the brainiest cars on the road, the Veloster offers Springfield car shoppers several advanced features including Bluetooth, Pandora, iPod/USB inputs and Hyundai's all-new Blue Link system. When you step inside the Veloster, Bluetooth will automatically sync with your smart phone, allowing you to instantly stream music, access your phonebook and take calls. Hyundai's Blue Link service offers fun and safety, letting you text hands free, remotely start your engine and share your location with friends. It even has an SOS Emergency Assistance function that can detect if you've been in a collision and send help to your location if an accident occurs. A 7-inch touchscreen illuminates the interior of the car and allows you to easily access all of these great features. It is available with an integrated navigation system which you can use to map out all of your destinations, as well as play videos, upload pictures and more. When you visit [Dealership Name], one of our friendly customer service representatives will go over all of the Veloster's standard and available features with you.
The 2012 Hyundai Veloster from [Dealership Name] is equipped with an all-new Gamma 1.6-liter four-cylinder engine that utilizes GDI technology and provides class-leading fuel economy. This gasoline direct injection system is what allows the Veloster to achieve up to 40 mpg on the highway. GDI technology also increases the reliability of the engine and helps lower emissions. In spite of the engine's small size, Springfield Hyundai shoppers can look forward to an exhilarating ride. The Gamma is capable of producing some surprisingly high numbers, generating an impressive 138 horsepower and 123 pound-feet of torque. The Hyundai Veloster 2012's Gamma engine also features other notable efficiency-boosting components like a roller timing chain that increases the dependability of the engine and innovative anti-friction coatings that reduce abrasion in the valvetrain. The Dual Continuously Variable Valve Timing (D-CVVT) system is another mechanism that enhances fuel economy and reduces hydrocarbon emissions, along with boosting the Veloster's overall power. The Gamma is paired with a six-speed EcoShift dual-clutch transmission.
As a leading Springfield Hyundai dealer, we are proud to present the new 2012 Veloster! This revolutionary vehicle is setting a new standard in the compact coupe market and proving that Hyundai's reputation for unsurpassed value is spot on. We invite you to Reliable Hyundai to test drive the new 2012 Hyundai Veloster today!
Cruising in a Hyundai Veloster from Reliable Hyundai makes MO driving easy, safe and fun - all at the same time! Here's why:
Reliable Hyundai has a comprehensive inventory of 2012 Hyundai Veloster Hatchbacks with standard Hyundai safety features like anti-lock brakes, traction control, driver airbags, passenger airbags, side airbags and more, making the 2012 Veloster an NHTSA and IIHS favorite. In addition to these safety features, the 2012 Hyundai Veloster can easily seat up to 4 passengers. Trunk space with Hyundai is never a worry; the Veloster can hold up to 16 cubic feet of your luggage, ensuring that your next vacation is hassle-free. To top it all off, the 2012 Hyundai Veloster includes an extraordinary list of comfort and convenience features like powered windows, mirrors, doors and locks, climate control, AC and optional hands-free phone and navigation systems. Take a test drive at Reliable Hyundai today and experience the Hyundai Veloster for yourself.
The Hyundai manufacturer's warranty covers the Veloster for manufacturing defects and has a 5 Years / 60,000 miles Hyundai warranty. Hyundai has worked for years to minimize its environmental impact; as a result, the Veloster's carbon footprint is minimal. Not surprisingly, with all of the Veloster's advantages, this dependable Hyundai Hatchback retains a high percentage of its value at 3 years and 36,000 miles, which makes the Hyundai Veloster a great used buy! When seeking a safe, stylish and economical Hatchback, Springfield Hyundai shoppers should head to Reliable Hyundai, located at 438 S Ingram Mill Rd in Springfield, [Dealership State]
Hyundai Veloster service information for Springfield
Hyundai Veloster lessees and owners in Springfield have found that [Dealership Name] at 438 S Ingram Mill Rd in Springfield is the very best choice for Veloster warranty work, regular maintenance, inspections and mechanical repairs. At Reliable Hyundai, Certified Hyundai Technicians trained in the very latest corrective and diagnostic techniques work for one thing - your complete satisfaction. Whether it's time for your Hyundai to have an oil change, air conditioning repair, or simply undergo Veloster Scheduled Maintenance, Reliable Hyundai is your first choice. Our Certified Hyundai Mechanics also complete specialty jobs and repairs. Reliable Hyundai is the smartest choice in Springfield for speedy, amicable and professional Hyundai Service of all kinds.
If you'd like to make an appointment to have your Veloster serviced, click the link or just give us a call. We look forward to seeing you soon!