The 2012 Hyundai Tucson from Reliable Hyundai is the perfect example of passionate automotive craftsmanship built to fit the needs of MO Hyundai aficionados. Reliable Hyundai is thrilled to present the 4-door 2012 Hyundai Tucson SUV. As your Springfield Hyundai dealer, we hope you find our 2012 Hyundai Tucson reviews and research materials valuable in finding the amenities, specifications and information you've been on the lookout for.
View Reliable Hyundai's lineup of 2012 Hyundai Tucson SUVs
.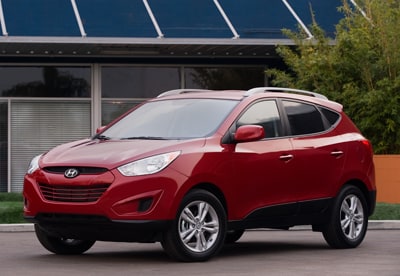 Reliable Hyundai presents the 2012 Hyundai Tucson SUV
Consumers find that when they compare the 2012 Hyundai Tucson to other makes like the Toyota RAV4, Honda CR-V and Nissan Rogue , the Hyundai Tucson distinguishes itself as the most fun to drive. Check out our Quick List chart below to see why!
The 2012 Hyundai Tucson has an starting MSRP of $19,045
The 2012 Hyundai Tucson gets 21 city / 30 highway MPG
The 2012 Hyundai Tucson goes from 0-60 MPH in 8.4 seconds
The 2012 Hyundai Tucson features 41.2 inches of legroom up front and 38.7 inches in back
The 2012 Hyundai Tucson features 39.4 inches of headroom in front and 39.1 inches in back
The 2012 Hyundai Tucson is 173.2 inches long, 71.7 inches wide and is 65.2 inches tall
The 2012 Hyundai Tucson weighs 3,318 pounds and has a turning radius of 17.3 feet
We know you'll enjoy the Hyundai Tucson - visit Reliable Hyundai in Springfield today!
The natural, flowing bodystyle of the 2012 Hyundai Tucson should give Springfield Hyundai drivers something to talk about. While it displays design features of Hyundai's new line-up, the 2012 Tucson's clean fluidic sculpture design makes it a clear standout from the Toyota RAV4, Honda CR-V and Nissan Rogue. This year, the Hyundai Tucson is available in three trim levels: the GL, GLS and the Limited. The GL carries a 2.0-liter Theta II four-cylinder engine that generates 165 hp and 146 pound-feet of torque, plenty for city driving and light off-road duty. A Variable Intake System and Dual Continuously Variable Valve Timing transmission are just two of the high-technology features that help the Tucson's engine display its athletic abilities. Inside the engine, a diamond-like coating is used to improve overall fuel economy and reduce parts friction. All of those elements combine to give the 2012 Hyundai Tucson a fuel economy rating of 21 mpg city and 30 mpg highway for automatic models. A five-speed manual transmission is standard, but all models can be equipped with an automatic transmission that features SHIFTRONIC manual control. Reliable Hyundai has the best selection of 2012 Hyundai Tucsons for sale in Springfield, so stop by today and drive home an affordable, fun to drive compact crossover SUV.
Tucson GLS and Limited models come standard with a 2.4-liter version of the Theta II four-cylinder. This larger, more powerful engine is near the front of its class for power, giving the Tucson 176 hp and 168 pound-feet of torque. An optional electronic AWD system for the Tucson GLS and Limited is available and automatically activates to transfer power to all four wheels when you need it most. A locking function pins the torque split at 50/50 between the rear and front axles, which is very helpful when facing less than favorable driving conditions. The 2012 Hyundai Tucson comes standard with Downhill Brake Control and Hillstart Assist Control, two items normally reserved for the top trim level or more expensive compact SUVs. Downhill Brake Control utilizes the antilock brake system to control the vehicle's speed when traveling downhill, while Hillstart Assist Control helps in preventing rollback on hills when parking. Safety is a major priority for the 2012 Tucson, and high-strength steel is in place for better crash performance. Additionally, Electronic Stability Control comes standard, giving Springfield Hyundai Tucson commuters greater control with no additional effort from the driver. MacPherson struts up front ensure a responsive suspension, while a multilink arrangement holds the rear. Gas-charged shock absorbers and coil springs are paired with the rear and front stabilizer bars for a more calculable cornering response. 2012 Hyundai Tucson Limited models come equipped with Sachs Amplitude Selective Dampers for a supple ride that doesn't inhibit performance. Brand-new features for 2012 include low-rolling resistance tires for better fuel economy and an Active Eco system that minutely adjusts the response of the engine and transmission for a smoother drive. Visit Reliable Hyundai today and step behind the wheel of this comfortable and capable Hyundai SUV.
The 2012 Tucson's interior holds plenty of room for passengers and cargo alike. A 60/40 folding rear seat is standard and folds down for an even larger storage area, giving drivers over 50 cubic feet of space in back. Additionally, the Tucson's interior is made from quality materials and uses the latest in-car technologies like Bluetooth, ambient lighting and optional touch-screen navigation. The controls in the cabin are simple to use and laid out in an easy-to-understand manner. Standard interior features in the Tucson GLS include leatherette/cloth combination seating, keyless entry, climate control, cruise control, steering-wheel audio controls and heated front seats on the GLS AWD model. The 2012 Hyundai Tucson Limited comes equipped with leather seating and power adjustable, heated seats. A panoramic sunroof is optional, but Springfield Hyundai Tucson drivers will enjoy all of the standard luxury features of the GLS with the addition of an auto-dimming mirror with Homelink, foglamps, automatic temperature control, automatic headlamps and 18-inch alloy wheels. The 2012 Hyundai Tucson has kept up with the latest technological fads, including an optional navigation and rearview camera system. Tucsons with navigation come equipped with a 6.5-inch color LCD touchscreen to control the user-friendly system, and can respond to vocal cues from the driver. Navigation also comes with a 360-watt sound system including Bluetooth, a CD player, and the already standard iPod, USB and auxiliary input jacks.
No matter the trim level, the driver can be assured that the 2012 Hyundai Tucson features fantastic value and amenities that are normally reserved for much more expensive SUVs. In the compact crossover market, the Tucson comes out ahead of the pack with all of the best features, equaling greater long-term value. Reliable Hyundai proudly offers the new 2012 Hyundai Tucson for sale for Springfield area drivers; you too can experience near-luxury in an attractive package at an affordable price - call us today.
Driving a Hyundai Tucson from Reliable Hyundai makes MO driving easy, safe and pleasurable - all at the same time! Here are the reasons why:
Reliable Hyundai has a huge collection of 2012 Hyundai Tucson SUVs with standard Hyundai safety features like anti-lock brakes, traction control, driver airbags, passenger airbags, side airbags and more, making the 2012 Tucson an NHTSA and IIHS favorite. In addition to these safety features, the 2012 Hyundai Tucson can capably seat up to 5 passengers. Trunk space with Hyundai is never a worry; the Tucson can hold up to 25.7 cubic feet of your gear, ensuring that your next journey is hassle-free. To top it all off, the 2012 Hyundai Tucson includes an incredible list of comfort and convenience extras like powered windows, mirrors, doors and locks, climate control, AC and optional hands-free phone and navigation systems. Take a test drive at [Dealership Name] today and experience the Hyundai Tucson for yourself.
The Hyundai manufacturer's warranty covers the Tucson for manufacturing defects and has a 5 Years / 60,000 miles Hyundai warranty. Hyundai has worked for years to minimize its environmental impact; as a result, the Tucson's carbon footprint is minimal. Not surprisingly, with all of the Tucson's advantages, this great Hyundai SUV retains a high percentage of its value at 3 years and 36,000 miles, which makes the Hyundai Tucson a great used buy! When seeking a safe, stylish and economical SUV, Springfield Hyundai aficionados should head to Reliable Hyundai, located at 438 S Ingram Mill Rd in Springfield, [Dealership State]
Hyundai Tucson service information for Springfield
Hyundai Tucson lessees and owners in Springfield have found that Reliable Hyundai at 438 S Ingram Mill Rd in Springfield is the very best choice for Tucson warranty work, regular maintenance, inspections and mechanical repairs. At Reliable Hyundai, Certified Hyundai Technicians trained in the very latest corrective and diagnostic techniques work for one thing - your complete satisfaction. Whether it's time for your Hyundai to have an oil change, shock and strut replacement, or simply undergo Tucson Scheduled Maintenance, Reliable Hyundai is your first choice. Our Certified Hyundai Mechanics also complete specialty jobs and repairs. Reliable Hyundai is the smartest choice in Springfield for fast, amiable and professional Hyundai Service of all kinds.
If you'd like to make an appointment to have your Tucson serviced, click the link or just give us a call. Visit us today!