As many who have experienced the problem can attest, there is nothing fun about a car's air conditioning system breaking at the height of summer. A broken AC system can be quite frustrating because of the inconvenience to you and the fact that it can be a complicated problem to solve. However, a non-functional AC system can also harm your car, as it puts excess stress on other parts of the car's AC system that are still good. Ultimately, this wears them out more quickly. Therefore, you're always better off getting the AC system repaired as soon as you notice problems. Doing so can prevent additional problems from developing down the road, and it can also save you money on additional repairs. Before taking your car in for an appointment, there are several signs and symptoms you can look for that may help your mechanic understand where the problem is.
Does minimal air flow through the AC system, or does the unit blow out only warm or slightly cool air?
If little or no air comes out of the AC system when you turn it on, the problem might lie in one of the system's main components. This can be the condenser, compressor, expansion valve, or the evaporator. A broken or clogged fan, motor, or filter can also prevent air from moving through the system. And it doesn't take much to stop air flowing through the AC system – the failure of even a small part can cause the entire system to stop working. Furthermore, some cars have safety mechanisms built into their AC units that tell the system to shut down when a major component fails. Either way, you should bring your car in to a knowledgeable mechanic, like you'll find at Reliable Hyundai, if you have this problem. A mechanic can inspect the system to identify the cause and either replace the part or clear a blockage.
Is there minimal pressure in the AC system?

Although you might not know exactly what the problem is if the AC system's pressure is low, you may be able to narrow it down to a few sources. One common cause of low pressure is inadequate levels of refrigerant fluid in the vehicle. This can be caused by a hole or crack somewhere, such as in a seal, the condenser, the compressor, or a valve. A crack enables refrigerant fluid to leak out of the vehicle, which in turn causes the pressure to drop. The pressure can also drop from a defect in one of the AC system's other components, such as the blower motor in the evaporator burning out. Whatever is causing the low pressure, you need to bring it in for repairs. A mechanic will most likely check the system first for sufficient refrigerant fluid levels.
Do you see fluid beneath your car when it's parked?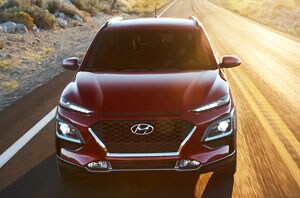 A pool of liquid under your car can also help you determine the cause of a faulty AC system. If you notice a pool of oil collecting on the ground, it's a sign that you might have a refrigerant fluid leak. This problem should be dealt with as soon as possible, since a small leak can quickly worsen. Additionally, leaking refrigerant fluid can make its way into the engine and cause damage to that system, too. You might also notice a pool of water under the car. If you also notice that the AC system blows cool or cold air intermittently, it may be an indication that a part in the AC system has iced over. The melting ice will collect under the car as the part starts to thaw. This normally happens about 30 minutes after the car has been turned off after a drive.
Check out some of our service specials that we rotate frequently in order to ensure that you are getting the service you expect for great prices.