Quality Hyundai Veloster Research From Reliable Hyundai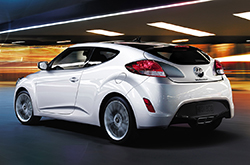 Agile, contemporary and engineered for your convenience, the 2016 Hyundai Veloster in Springfield is a premier hatchback option for modern drivers seeking performance, style and a hassle-free driving experience. From a hidden door for easy second row entry to a spacious trunk ready to transport your cargo, the Veloster is a sporty model with real-world features. What else do we love about the Veloster? While we could go on all day, our 2016 Hyundai Veloster review can sum it up by saying the Veloster has a bit of everything for everyone.
A new Rally Edition joins the lineup as an extension of the Veloster Turbo R-Spec. Limited to 1,200 units, the Rally Edition is an exclusive option designed with a performance-focused suspension, lightweight wheels, aerodynamic accents, unique badging and a stunning Matte Blue paint finish. While the Rally Edition is new, the standard Veloster, Turbo and Turbo R-Spec return this year as fantastic trim level options with the features and performance you'll love.
The standard Veloster drives into 2016 with a new 17-inch alloy wheel design, a revised hood and updated touch screen capabilities. While the direct-injected Gamma 1.6L engine rated at 132 horsepower carries over alongside the base manual transmission or optional EcoShift dual-clutch transmission. Rated at a combined 31 mpg, the dual-clutch Veloster promises fewer trips to the gas station and more money in your pocket. Plus, with remote keyless entry, a rearview camera, Vehicle Stability Management, HD Radio accessibility and integrated video game connectivity, the 2016 Hyundai Veloster in Springfield is a superior choice for performance and convenience minded buyers.
Quality doesn't stop there, though. For shoppers seeking extra power or even more features, our 2016 Hyundai Veloster review recommends the Turbo or Turbo R-Spec models. Equipped with Torque Vectoring Control, the Veloster Turbo models utilize a 1.6-liter turbocharged, direct-injected four cylinder engine to produce 201 horsepower and 195 lb.-ft. of torque without sacrificing top-notch fuel economy. Plus, the best-in-class specific output of 125.6 horsepower per liter and the sportier design elements make the Veloster Turbo and Turbo R-Spec incredibly attractive upgrades.
Agile, efficient and connective, the 2016 Hyundai Veloster propels forward this model year. Test drive a Veloster today and discover the premium convenience of this exceptional hatchback.