2016 Accent Research and Review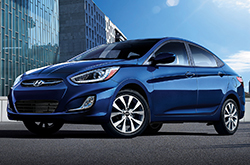 Hyundai's signature subcompact car, the Accent, has been carried over for the 2016 model year. Aside from minor package updates and a small change in trim-level naming, the 2016 Hyundai Accent mirrors the 2015 model. Featuring an attractive exterior with slight lines and a dramatic front-end design, the subcompact continues to appeal to modern car buyers. It also features an impressive standard audio system, offers confident driving dynamics and delivers superior fuel economy, allowing drivers to obtain excellent gas mileage. For more info about these features and the new Accent model, take a look at our 2016 Hyundai Accent review.
In an effort to keep the Accent's naming scheme consistent, Hyundai has renamed the Accent GLS and Accent GS. The former is now called the Accent SE Sedan and the latter is referred to as the Accent SE Hatchback. Aside from these changes, the 2016 Hyundai Accent in Springfield is virtually unchanged; however, its high-tech audio system now offers improved voice recognition and features a more user-friendly button layout. Complete with six-speakers, SiriusXM Satellite Radio, an iPod/USB auxiliary jack and Bluetooth technology, the standard audio system is a favorite among Accent owners and a must-have for today's tech-savvy buyers.
Completely unaltered this year is the Accent's powertrain offerings. The subcompact continues to sport a 1.6L direct-injection four-cylinder engine with the ability to generate 137 horsepower and 123 lb.-ft. of torque. A six-speed manual and six-speed automatic serve as the transmission options on the front-wheel-drive model and support its fuel economy offerings. With the automatic, the 2016 Hyundai Accent in Springfield can achieve an EPA-estimated 30 mpg combined, 26 city and 37 highway, while the manual delivers an EPA-estimated 31 mpg combined, 27 city and 38 highway. The Accent is also the first car in the subcompact segment to come with Gasoline Direct Injection, which improves its overall performance.
Want to learn more? Scroll down and continue browsing our 2016 Hyundai Accent review below.