Springfield Dealer Researching the New Veloster Veloster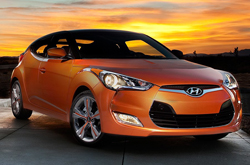 The performance-oriented 2015 Hyundai Veloster is here and it's offering two one-of-a-kind models this year: the Turbo R-Spec and RE:FLEX Edition. Each fresh edition builds on the Veloster's athleticism and styling, drawing in new, younger buyers searching for a sporty yet efficient vehicle. Equipped with innovative technologies and high-quality mechanical components, the models are an absolute must-have for longtime Hyundai fans. You can read more about them in our 2015 Hyundai Veloster review below and obtain more information about their excellent features.
One of the greatest additions to the Veloster lineup this year is the new Veloster RE:FLEX Edition. The new model, which is being offered for a limited time, comes with 18-inch alloy wheels, black or red leather seating, Ice Pearl paint and a PVD chrome finish. A Style Package also offers buyers a 450-watt audio system, a rearview camera, a touchscreen display and front fog lights. Aside from the RE:FLEX model, a new Turbo R-Spec model is available on the 2015 Hyundai Veloster in Springfield lineup. The variant features red interior accents, push-button start and leather seats; however, its appeal lies in its mechanics, which include a 1.6L direct injection turbocharged engine, sport suspension, a six-speed manual transmission and a B&M sport shifter.
The 2015 Hyundai Veloster in Springfield comes with a Gamma 1.6L four-cylinder engine. When paired with a manual transmission it produces 132 horsepower and 120 lb.-ft. of torque, but when equipped with a dual-clutch transmission (on RE:FLEX) it delivers 132 horsepower and 120 lb.-ft. of torque. All Turbo models receive the turbocharged 1.6L four-cylinder engine that exerts 201 horsepower and 195 lb.-ft. of torque. It also produces a best-in-class 125.6 horsepower per liter, outshining other engines in its segment.
Do you want to learn more about the latest Veloster? Keep reading our 2015 Hyundai Veloster review for more information.