Check Out the New 2015 Azera From Reliable Hyundai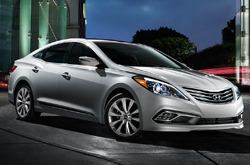 The 2015 Hyundai Azera comes stocked with an ample amount of new standard equipment this year that is sure to be a hit with Hyundai's loyal fanbase. Advanced safety technologies, fresh exterior elements and several interior upgrades can be found in the new 2015 model. The sedan also comes outfitted with a sophisticated V-6 engine with the ability to churn out incredible fuel economy and low emissions. For further information about the powertrain and the car's fresh additions, read our comprehensive 2015 Hyundai Azera review.
Lane Change Assist, Rear Cross Traffic Alert and Blind Spot Detection are just some of the newly standard features you can find on the 2015 Hyundai Azera in Springfield. The lavishly styled Limited model also sports fresh exterior modifications, such as a revised front and rear bumper fascia, grille and standard 18-inch wheels. Inside the Azera's cabin, an updated center stack design, eight-inch navigation display and illuminated door sills are also present. Additionally, a state-of-the-art Blue Link system with Vehicle Safeguards Alerts In-Vehicle App is featured in the sedan. The system allows parents to monitor their teenage drivers, which enhances safety.
Equipped with a Lambda II 3.3L direct-injection V-6 engine, the 2015 Hyundai Azera in Springfield provides great performance. Its engine, which happens to be the smallest V-6 in its class, delivers 293 horsepower and has a best-in-class output of 88.8 horsepower per liter. The system also produces 255 lb.-ft. of torque, giving it the ability to fearlessly make its way through a variety of road and weather conditions. The powertrain's efficiency benefits Hyundai buyers as well, providing first-class reliability that trumps the rest.
To discover additional spec information and details about the new Azera, keep reading our 2015 Hyundai Azera review below. If you'd like to get an even closer look at the model, check out our 360-degree video review.