About Hyundai Reviews From Reliable Hyundai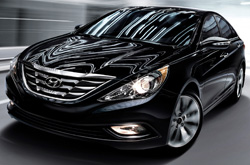 Make the most out of your next Sonata purchase by reading a review of the 2013 Hyundai Sonata before you buy. All Hyundai dealers in Springfield are not alike. We feel it's our job to present customers with quality Hyundai reviews that set us apart from the typical dealer. To make intelligent decisions when it comes to your next Hyundai Sonata purchase, don't guess! Each passage is brimming with data and Sonata features in way that's easy to understand. Does the Sonata have what it takes to be your next Hyundai? Continue reading and find out!
Update and live inventory of 2013 Hyundai Sonata in Springfield , Missouri
Video Review of the Hyundai Sonata
Quick Stats for the Hyundai Sonata
By examining the 2013 Hyundai Sonata side-by-side with the 2013 Nissan Altima, Kia Optima, Mazda 6, Ford Fusion and the Toyota Camry, and you can notice that the Sonata outshines those autos in quite a few zones. See the hightlights below.
2013 Hyundai Sonata Cargo Space: 16.4 cubic feet
2013 Hyundai Sonata MSRP: $20,895
2013 Hyundai Sonata Seats: 5 passengers
2013 Hyundai Sonata 0-60 MPH in 6.6 seconds
2013 Hyundai Sonata MPG: 24 city / 35 highway
2013 Hyundai Sonata Colors: Sparkling Ruby, Indigo Night, Iridescent Silver Blue, etc...
2013 Hyundai Sonata Body Style(s): Sedan
Hyundai Sonata: Standard & Available Features for 2013
Helping You Uphold the Value & Quality of Your Investment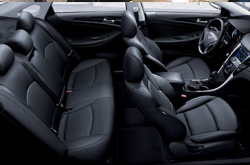 Get actual factory parts and superb workmanship from Hyundai technicians at a facility that's just a small jaunt from most any place. At our Hyundai auto repair center in Springfield , we offer this and a generous warranty on all work! Even the quality Hyundais in Springfield can take a triumphing, so turn to the Hyundai service and autp repair pros in Springfield at Reliable Hyundai. We will take care of a task as simplistic as an oil change, or complete involved auto repairs and service like timing belt replacements, strut and shock repairs and Hyundai transmission rebuilds. Furthermore, Reliable Hyundai's always got honest prices on Hyundai repairs in Springfield , even for simple OEM recommended maintenances. Follow the link below to see our current service specials.