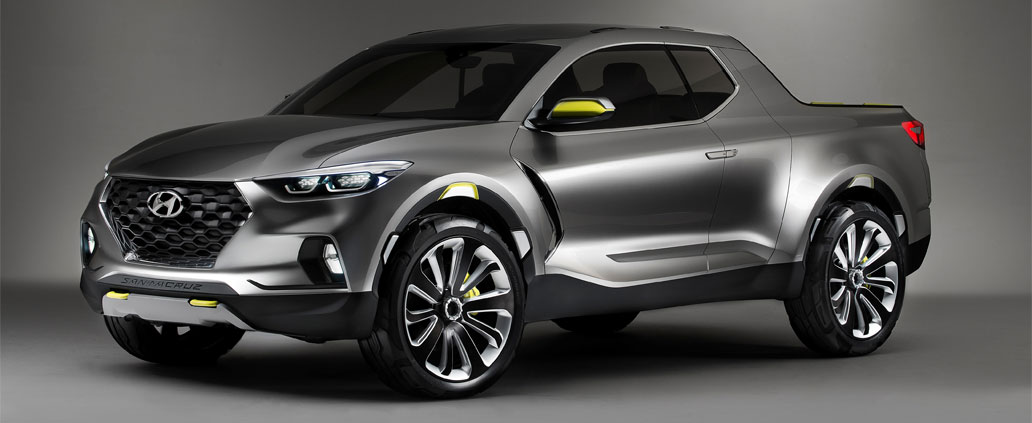 Pictured: The Santa Cruz Concept Truck that was revealed at the Detroit Auto Show in 2015.
Hyundai has confirmed that it is adding a pickup truck to its lineup next year: the all-new 2022 Santa Cruz. This is the first truck in the Hyundai family of vehicles. While there may be some changes to its design before it goes to production, there are a few things we expect, including an innovative extended cab design.
While nothing is set because it's early, we're already getting excited. As mentioned, Hyundai shoppers will soon have a pickup truck option. Hyundai has stated that the Santa Cruz "creates a whole new segment," providing an option for compact crossover SUV shoppers who want the convenience of a truck bed.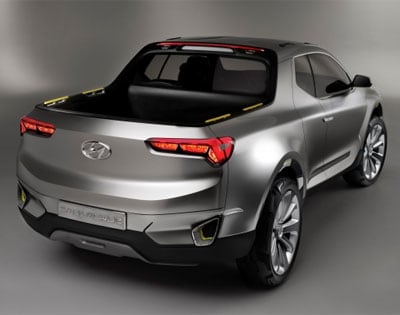 The Santa Cruz is expected to come with an extended-cab body with reverse-opening doors, but it could also have a traditional crew cab with forward-hinged doors.
Many sources believe that the Hyundai Santa Cruz will likely share some parts and components with the Santa Fe crossover. The Santa Cruz may get the same engines as the Santa Fe, but to keep up with towing abilities, it may get more power. A hybrid or plug-in hybrid option may also be in store for the truck.
Of course, the new compact truck will be covered by Hyundai's comprehensive warranties, which include impressive powertrain coverage.
Hyundai Santa Cruz Release Date
The Santa Cruz will go into production sometime in 2021. It will be manufactured at Hyundai's U.S. automotive assembly plant in Montgomery, Alabama, where it will join the Santa Fe, Sonata and Elantra. The release date has not yet been revealed, but we will continue to provide updates as we get more information.
We can't wait for the 2022 Hyundai Santa Cruz to go on sale in Springfield, Missouri! Keep an eye on our blog for more details as the model's arrival approaches. In the meantime, check out other Hyundai models currently in stock below.