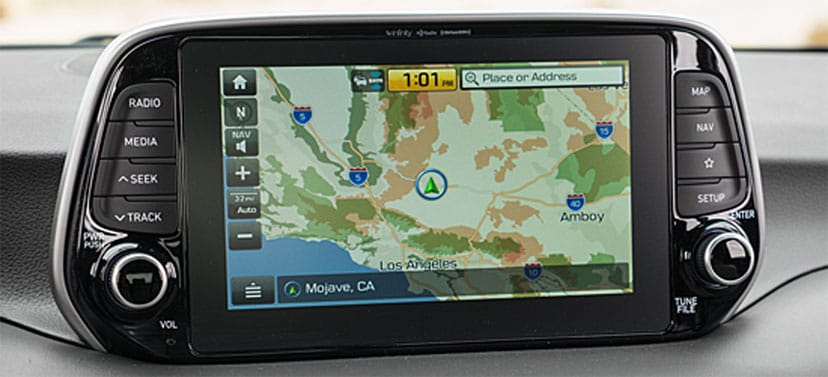 Newer Hyundai models come equipped with a navigation system that can help you get to where you need to go. You get three full years of complimentary Hyundai map updates when you purchase your Hyundai vehicle. Most updates will come out in the Spring and Fall of each year. You have the option to download and install updates with the use of an SD card or during one of your regularly scheduled maintenance appointments at Reliable Hyundai. Let's look closely at how you can update your Hyundai navigation system.
Downloading and Installing Hyundai Navigation Updates
You have the option to download updated information and upload it to the SD card that is used in your automobile. It would be best if you had a computer with an SD card slot to do this. Depending on which model of Hyundai you have, your SD card slot position may vary. Your owner's manual will tell you where to look.
Go to https://www.mapnsoft.com/hyundai/mapcare to sign in to your account or create an account. A pop-up will appear once you have signed in that asks you to enter your VIN. Once you have this information correctly entered, your specific vehicle will show up on the menu. Select the +FREE navigation option that allows you to download map software. Your device ID will be needed at this point.
Once you enter that information, you will be able to confirm your order. It's a good idea to save this information for future reference. You'll need it to begin the actual download process. The order number should begin with the letters 'MCHU'.
The amount of time that is required for your download will depend on internet speed. Once you have completed the download process, take the SD card and put it back into your vehicle. Select the 'Drive' option from your menu, followed by the 'Yes' function, to allow formatting to take place on your drive. Once the download is done, you will need to get an authentication code. This will enable you to authenticate the file. Click on 'Map update Manual (PDF) Download' to obtain instructions on how the software should be installed based on your vehicle model.
It's effortless to sign in if you already know what your sign-in information is. If you don't have an account set up already, you can click on 'Create an Account' to get started. Fill in all of the required fields to complete the process. You can now log in and continue placing an order. This login process is needed for the different methods of updating your maps.