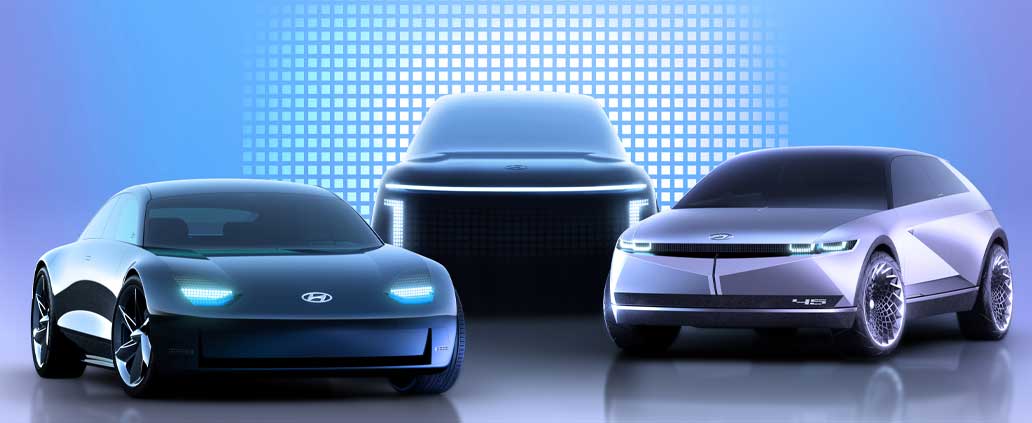 The IONIQ is being launched as a new sub-brand that represents the future of Hyundai's electric vehicles. It will be dedicated to conscious consumers who desire a more sustainable future of mobility. The new brand will introduce three IONIQ EV models over the next four years, beginning with the IONIQ 5, a mid-sized EV crossover SUV.
The IONIQ, a term combining the words "ion" and "unique", merely began as a research and development project centered on environmentally-conscious mobility. This, in turn, led to the introduction of the Hyundai IONIQ in 2016. As the first model to offer three electric-powered options, the IONIQ grew as a brand focused on growing and building sustainability through innovative designs. With the IONIQ brand rebooted and primarily focused on eco-friendly mobility, Hyundai plans to launch a range of electric vehicles starting in early 2021.
The range will include numerically named electric vehicles: IONIQ 5, 6 and 7. The even-numbered EVs will be dedicated to sedans, where the odd-numbered EVs will be used for SUVs. The first model under the new brand will be the IONIQ 5, followed by the IONIQ 6. Both of these models draw inspiration from concept vehicles, such that the IONIQ 5 is based on the concept EV '45' and the IONIQ 6 based on the latest concept EV 'Prophecy'. By early 2024, Hyundai plans to have the range wrap-up with the IONQ 7, a large SUV.
Our professionals are always happy to share exciting news like the Hyundai IONIQ brand reboot. If you want more details regarding the IONIQ and its commitment to a sustainable future, contact our friendly associates at our Hyundai dealership today.