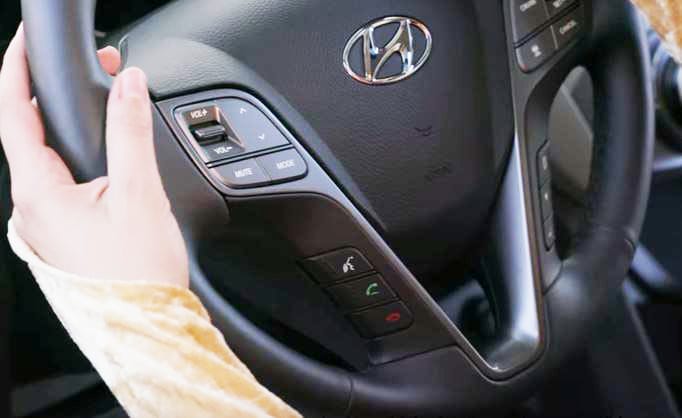 With so many different makes and models of vehicles on the market right now, it can be difficult to choose something that you think will fit your lifestyle and budget perfectly. If you are someone that does a lot of driving and traveling, you may find a vehicle useful if it ties into your phone's navigation system. Apple CarPlay and Android Auto are both featured in the Hyundai lineup this year. You can use your smartphone along with these technologies to get to where you need to go. Even better, you can use your navigation system with Hyundai Voice Commands in order to focus on the road while trying to get directions. Let's take a closer look at how you use this system to easily get your directions.
How to enter a destination into your navigation system by using Hyundai voice command technology:
There is a voice command button located on your steering wheel. This button has a picture of a face on it.


If you have engaged the system, a voice will project to you: "Please say a command".


Your response should be: "Find an address in…". Make sure that you include the state in which your final destination is located. Don't dictate a full address just yet.


The voice command system will respond and tell you that you need to communicate the full address you want to find. You should include the number, street name and city.


If your navigation system is having a hard time narrowing down your results, you may receive a few different options by number. You can respond back with the location that you are looking for, or something that you know is close by.


By saying "Start guidance", your system will begin your set of directions.


You can say "Try again" at any point to restart the system.
Using the Hyundai Navigation Voice Command system is a very simple way to find directions to where you need to go. You can use this system for a short trip to a local restaurant that you are trying for the first time, or you can have your navigation system running for an entire road trip across country (don't forget to plug in your charging cable for that one). If you want to find out more about Hyundai's voice command feature, stop down to Reliable Hyundai today. We'll show you all of the great options that Hyundai has provided as part of its vehicle lineup this year.