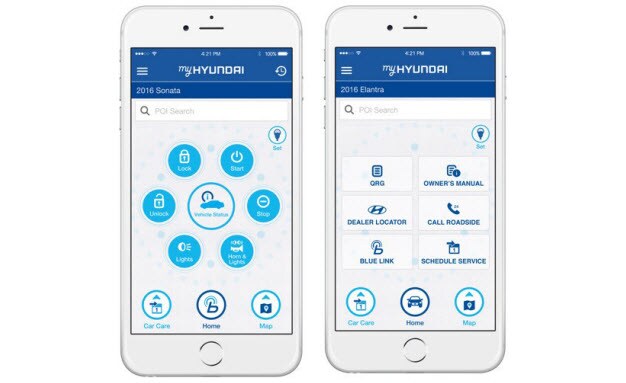 Hyundai is gone to great strides to enhance the customer experience with the creation of their brand-new App, MyHyundai with Blue Link. Designed to benefit car owners on the go, the new app integrates features previously offered solely on the Car Care and Blue Link mobile apps, allowing customers to more easily take advantage of select services.
With Blue Link remote and Assurance Car Care features combined in one app, Hyundai owners will always have their vehicle's information at their fingertips. Certain functions available with the new app include remote start with climate control, Hyundai dealer locator, destination search, schedule service car finder and remote door lock/unlock. Additionally, customers will have access to monthly vehicle health reports, how-to videos, car care tips, Hyundai rewards, recall notifications, their car's recommended maintenance schedule and active diagnostic codes.
"Hyundai is constantly striving to make things better. Bundling all of these great services into one app simplifies and enhances the ownership experience for our customers," said Barry Ratzlaff, executive director, digital business planning and connected operations, Hyundai Motor America. "The 'There Is an App for That' movement has caused a lot of clutter on cellphones and we hope our approach keeps that clutter down to a minimum. Look for Hyundai to continue to deliver more through this one-app solution."
To download MyHyundai with Blue Link, visit the Apple App Store or Google Play.