Hyundai's automakers have introduced their first hybrid car to the automotive world, and unsurprisingly, they wanted to create a revolutionary vehicle that would stand out from all others in this competitive car segment. The company has set out to raise the bar for hybrid vehicles with the new 2011 Hyundai Sonata Hybrid, and thus far its car reviews have been more than positive. Hyundai describes it as a "hybrid in a tuxedo," uniquely crafted to suit environmentally conscious car shoppers who don't want to give up the niceties of a traditional gas-powered car. Well-known segment leaders like the Ford Fusion Hybrid, Toyota Camry Hybrid and Toyota Prius are up against a tough new challenger. The Hyundai Hybrid 2011 sedan is truly in a class of its own, offering many features that these vehicles do not. For a low MSRP of just $25,795, buyers get a fully-loaded hybrid car that includes: high-end interior amenities, greater power than any other non-luxury hybrid, a more comfortable and spacious interior, and a bold exterior design.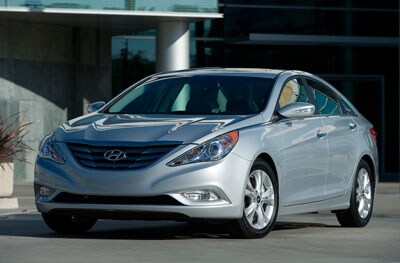 Hyundai has earned bragging rights with its new battery pack, which improves the Sonata Hybrid's overall electric-mode operations and flaunts a longer life, lighter weight and added power storage capacity. The Sonata's powertrain includes advanced lithium polymer battery technology - something unseen on any other vehicle in its class. The 2011 Sonata Hybrid from Reliable Hyundai incorporates this technology and combines a 2.4-liter engine with a 30kW electric motor to create a full-powered gasoline-electric hybrid that gets an average 38 mpg. This setup generates a significant amount of power with 195 pound-feet of torque and 290 horsepower. Test drive the 2011 Sonata Hybrid at our Springfield Hyundai dealership today and experience this surprisingly high-performance hybrid car for yourself.
You can find the new 2011 Sonata Hybrid at Reliable Hyundai in beautiful colors like Silver Frost Metallic, Venetian Red Pearl, Blue Sky Metallic and Porcelain White Pearl. The Sonata 2011 Hybrid is available in a single trim that is equipped with a long list of amenities. On the interior, Springfield car shoppers will find features like a telescopic steering column, a trip computer, rear HVAC ducts and power accessories. Features also include keyless entry with push-button start, cruise control, low-rolling resistance tires and more. In addition, the 2011 Hyundai Sonata Hybrid is outfitted with a number of terrific high-tech audio features including: XM Satellite Radio, hands-free calling, an iPod auxiliary jack, CD/MP3 player and high-end navigation system.
As a premier Hyundai dealer in Missouri, we are proud to carry the brand's first available hybrid vehicle. In its first year, it's already getting many highly positive evaluations. Sonata Hybrid car reviews will tell you that what separates the 2011 Hyundai Sonata from other hybrids is its supremely high safety ratings and terrific fuel economy, as well as its slick out-of-the-box looks and aerodynamic shape. The Sonata Hybrid from Reliable Hyundai is one of only two cars that have earned both a Top Safety Pick title from the Insurance Institute for Highway Safety (IIHS) and a top five-star rating in the government's new, more strenuous crash tests. The Sonata 2011 Hybrid's fuel-economy ratings either meet or exceed the majority of other hybrid cars, while offering a cheaper price and more overall comfort, space and style than most people would expect from a vehicle in this segment.
When it comes to design, the 2011 Hyundai Sonata Hybrid drastically parts ways with the gasoline-only powered Sonata sedan. Its style also clearly sets it apart from other hybrid cars. In a Cars.com Sonata Hybrid review, the author stated that the Sonata's "stand-out looks may just draw in buyers who've been hesitant to get a hybrid sedan before because the options available just didn't have bold enough styling." The one-dimensional exterior designs and utilitarian interior styling of most hybrids has often been a deal broker for many Springfield car shoppers. Now, the 2011 Hyundai Sonata offers a highly fuel-efficient car with a look and feel closer to that of a traditional nonelectric vehicle. A few of its design accents include a unique enlarged front grille, starburst-pattern taillights and a distinctive flap element. The flap is located on the front airdam and utilizes "active aerodynamics" by closing at high speeds to reduce drag.
As a top Missouri Hyundai dealer, we have one of the best selections of new and used Hyundai cars and SUVs in the area. We invite you to Reliable Hyundai to check out the new 2011 Hyundai Sonata! Current Hyundai owners are also welcome to stop by our top-rated Parts and Service departments where we have a staff of highly skilled ASE Certified Technicians and a large inventory of genuine Hyundai parts.