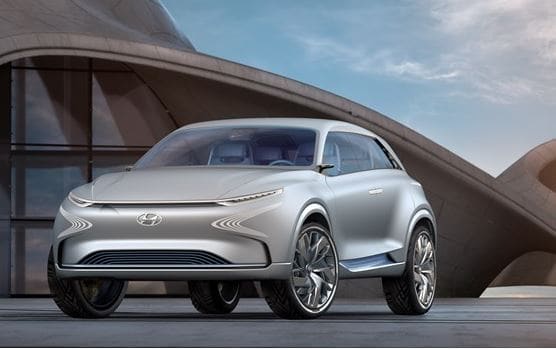 Hyundai continues to kick things into high gear when it comes to creating eco-friendly vehicles, like the Hyundai IONIQ, which is the first car to offer a choice of three electric powertrains in one body style. Now the automaker is taking the idea of going green to the next level with its futuristic FE Fuel Cell Concept, which was recently revealed at the Geneva Motor Show 2017.
The FE Concept is 20 percent lighter and achieves 10 percent greater efficiency compared to the current generation system found in the Tucson ix35 Fuel Cell. Plus, the fuel cell stack is enhanced by 30 percent, dramatically increasing the car's range.
The vehicle's name 'FE' stands for Future Eco, highlighting the concept's eco-friendly characteristics. One of its most notable attributes is the FE's internal air humidifier, which recycles water emitted by the vehicle's clean hydrogen energy circulation to provide a more comfortable cabin feel.
Putting occupants first, the FE comes with portable battery packs that are capable of powering electronic devices for added convenience. With the ability to run for approximately 497 miles between fill-ups, the FE can tackle long-distance trips with ease.
"Our FE Fuel Cell Concept is an important evolution of our pioneering hydrogen leadership, and moves us closer to our vision for a 'Hydrogen Society', where transportation is clean, efficient and enhances the lives of our customers," said Woong Chul Yang, Vice Chairman of Hyundai Motor Company.